Physical Activity - Boxing or Boxercise (8 - 18 years)
Physical Activity - Boxing or Boxercise (8 - 18 years)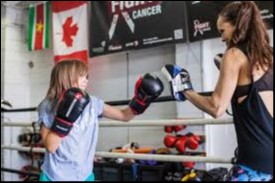 In partnership with local trainers we offer boxing classes or boxercise style classes for children and young
people. These are run in Dungiven and Limavady areas in local gyms and fitness centres.
To register with us and express interest in these programmes, please contact Donna O'Kane on 028 7774 2904 or manager@dryarchcentre.co.uk . Alternatively, you can complete the referral form here.