Trauma Teddy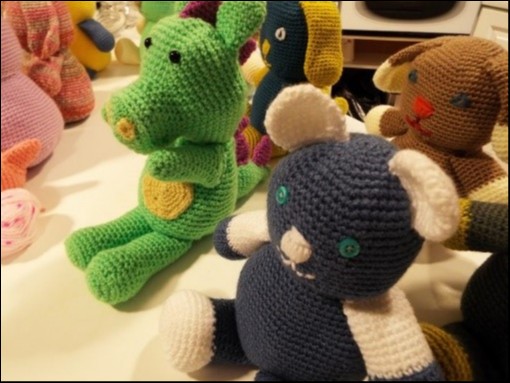 The Dry Arch Children's Centres launched our Trauma Teddy Campaign to comfort children who have been subjected to distressing situations and trauma.
The idea of Trauma Teddies was conceived by Australian Firefighters and has made its way across the world. We would like to credit the Austrailian Red Cross for their Trauma Teddy Pattern which we have used below.
Trauma Teddies are made by talented volunteers and donated to emergency services such as the PSNI, Fire & Rescue, Accident and Emergency and Social services Teams.
We have been donating small numbers of Teddies to the PSNI and other causes for the past number of years, however we want to ensure that there is enough teddies for everyone, not only in our Council area but throughout Northern Ireland with your help.
We are asking for the support of of the local community who like to be creative, or who would like to learn to be more creative, to volunteer their services and crochet a teddy or two. If you can't see yourself crafting right now, perhaps you would like to get involved by donating some much needed wool - the best wool for trauma teddies is 8-Ply.
These knitted teddies will will be provided by police officers, family support workers and other front line services to comfort children affected by traumatic events. Trauma teddies will be given as a simple distraction to help take a child's focus away from potentially upsetting circumstances and help police officers build a rapport and turn the experinece into something less traumatic. You can see a few examples of trauma teddies previously knitted by members of the Dry Arch Community on this page.
You can donate your completed teddies to any of the Dry Arch centres in Limavady & Dungiven, or at your local police station.
Dry Arch Centre Dungiven: 50 Legavallon Road, BT47 4QL
Dry Arch Centre Greystone: 30 Greystone Road, Limavady, BT49 0ND
Dry Arch Centre Limavady: 47b Catherine Street, Limavady, BT49 0HQ
Limavady Police Station: 11 Connell Street, Limavady, BT49 0EA
The Dry Arch Children's Centre have developed a full step by step guide on how to knit / crochet a Trauma teddy, and there is also a helpful video for you to follow:
Making a trauma teddy https://youtu.be/DtAM9E7qsH0